Cairns, widely recognized as the gateway to Australia's Great Barrier Reef, is characterized by its tropical climate, lush rainforests, and stunning beaches. This lively city brims with a plethora of attractions and experiences within its confines. Nevertheless, by taking advantage of a car rental, you can venture beyond Cairns and uncover a treasure trove of enticing day trips in the surrounding region, just waiting to be discovered.
With a car rental at your disposal, you have the freedom to discover these five amazing day trips, each just a short drive away from the city. Embarking on these excursions, you'll not only experience the breathtaking natural beauty but also immerse yourself in the diverse culture and incredible adventures that the Cairns region has to offer.
So, go ahead and secure a car hire in Cairns to make the most of your visit. With the open road beckoning, get ready to embark on these unforgettable day trips, which will undoubtedly leave you with lasting memories and a deeper appreciation for the wonders surrounding this magnificent city.
Kuranda: The Village in the Rainforest
(30-minute drive)
Located just a 30-minute drive from Cairns, Kuranda is a picturesque village nestled amidst the World Heritage-listed Wet Tropics Rainforest. With a car hire, you can easily reach this charming destination, which offers a range of activities for all ages.
Visit the Kuranda Markets for unique souvenirs and local handicrafts
Explore the Australian Butterfly Sanctuary, home to over 1,500 tropical butterflies
Take a leisurely stroll along the Rainforest Boardwalk
Discover indigenous culture at the Tjapukai Aboriginal Cultural Park
Recommended Car Hire: Take our Porsche Boxster for a drive up the range
---
Port Douglas: Tropical Coastal Paradise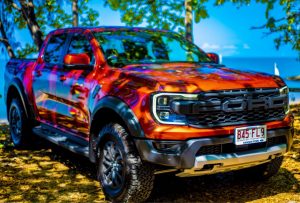 (1-hour drive)
Just an hour's drive north of Cairns, Port Douglas is a relaxed seaside town with a vibrant atmosphere. With a rental car from Cairns, you can experience the laid-back vibe, pristine beaches, and lush rainforests of this tropical paradise.
Stroll along the famous Four Mile Beach and soak up the sun
Visit the Wildlife Habitat, an interactive sanctuary housing Australian wildlife
Take a guided tour of the ancient Daintree Rainforest
Browse the boutique shops and dine at the many cafés and restaurants lining Macrossan Street
Recommended Car Hire: Take our 2022 Ford Ranger Raptor from Cairns up to Port Douglas
---
Atherton Tablelands: Scenic Landscapes and Waterfalls
(1.5-hour drive)
The Atherton Tablelands, located 1.5 hours southwest of Cairns, offer a diverse range of landscapes, from rolling hills and lush rainforests to volcanic crater lakes and cascading waterfalls. A car hire from Cairns makes it easy to explore the region's natural beauty and discover its hidden gems.
Marvel at the breathtaking Millaa Millaa, Zillie, and Ellinjaa Falls on the Waterfall Circuit
Visit the Curtain Fig Tree, a 500-year-old strangler fig with dramatic aerial roots
Take a scenic drive through rolling farmlands and picturesque countryside
Sample local produce, such as cheese, chocolate, and coffee, at the region's many farm gates and markets
Recommended Car Hire: This beautiful drive is perfect for our limited edition classic Ford Mustang Bullitt
---
Babinda Boulders and Josephine Falls
(1-hour drive)
Just an hour's drive south of Cairns, the Babinda Boulders and Josephine Falls offer a refreshing retreat from the city. Rent a car in Cairns and make your way to these popular swimming holes, surrounded by lush rainforest and impressive granite boulders.
Take a refreshing dip in the crystal-clear waters at Babinda Boulders
Hike to Josephine Falls, a multi-tiered waterfall with natural waterslides
Enjoy a picnic at one of the many shaded areas and barbecue facilities
Explore the surrounding rainforest along the well-maintained walking tracks
Recommended Car Hire: Experience the ride of your life in our Mercedes-Benz E300 Cabriolet for the day
---
Palm Cove: Beachside Bliss
(25-minute drive)
A short 25-minute drive north of Cairns, Palm Cove is a tranquil beachside village renowned for its palm-fringed shores, upscale resorts, and vibrant dining scene. With a car hire Cairns, you can enjoy a relaxing day trip to this picturesque coastal haven.
Unwind on the soft sands of Palm Cove Beach, with stunning views of Double Island and Haycock Island
Indulge in a rejuvenating spa treatment at one of the many luxury day spas in the area
Dine at award-winning restaurants serving fresh local seafood and international cuisine
Take a leisurely stroll along the Palm Cove Jetty, perfect for fishing or simply enjoying the views
Recommended Car Hire: Our Tesla Model 3 will delight and deliver on this short scenic trip
---
About Cairns in Far North Queensland
Cairns, a lively tropical city in Far North Queensland, is known for its warm weather and green surroundings. As a major tourist destination, Cairns attracts millions of visitors each year, thanks to its close proximity to two UNESCO World Heritage Sites: the amazing Great Barrier Reef and the ancient Wet Tropics Rainforest.
The city, with a population of over 150,000, offers a variety of activities like snorkeling and diving in the Great Barrier Reef's crystal-clear waters and exploring the Daintree Rainforest. Cairns residents enjoy a relaxed lifestyle and a diverse mix of cultures, reflecting its rich Indigenous history and the influence of many international visitors.
Cairns City Life
Proud of its exciting dining and entertainment scene, the city's bustling waterfront area, called the Esplanade, is filled with restaurants, bars, and cafes offering a wide range of local and international cuisine. Additionally, the Esplanade features a large saltwater lagoon, a popular spot for families and tourists to relax and enjoy the warm tropical waters.
Cairns hosts various events and festivals throughout the year, like the Cairns Indigenous Art Fair, the Cairns Festival, and the Reef Feast, celebrating the region's art, culture, and culinary delights.
Cairns' Rich History
With a rich history that dates back over 60,000 years, deeply connected to the region's Indigenous communities, such as the Gimuy Walubara Yidinji and the Yirrganydji tribes. European settlement began in the late 19th century, quickly turning the city into a busy port and service center for the nearby goldfields, agriculture, and timber industries.
Today, Cairns remains an essential gateway to the region's natural wonders. With a car rental, visitors can explore the diverse landscapes, enjoy unique experiences, and learn about the city's intriguing past and vibrant present, all while creating unforgettable memories in this incredible Australian location.
Cairns Car Rental
A car rental in Cairns opens up a world of possibilities, showcasing the region's stunning natural wonders, rich cultural heritage, and extraordinary experiences. Choosing a premium car hire can greatly improve your trip, allowing you to travel in style and comfort. This way, you'll be ready to explore the charming rainforest villages, beautiful coastal getaways, impressive waterfalls, and serene swimming spots around Cairns. The freedom of self-drive adventures lets you fully experience these amazing places at your own pace and on your terms.
So, go ahead and indulge in a luxurious car hire experience, taking your Cairns adventure to new heights. With the open road calling you to explore, you're sure to create cherished memories as you embark on these exciting day trips and discover the many hidden gems throughout this spectacular region.
Contact us today to book your next drive with us. Email: [email protected]. Call: 0447 809 899.